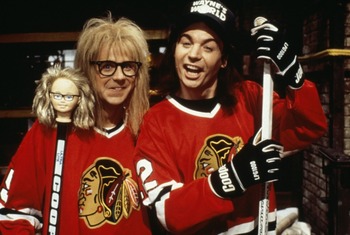 Sunday between 6 – 10 PM CST if you can send any intelligent or trivial thoughts my way please do so. My team, "Party on, Wayne!" will be competing with about 55 others teams in the Kansas Trivia League. We made it though the semi-finals last Sunday.

The readers of YJKOBT seem to be an eclectic group and if we use our powers collectively to send knowledge to me then maybe just maybe "Party on, Wayne!" can win! Even if we don't have super powers positive thoughts are always helpful.
Oh, yes every time our name is said my team and many others shout out, "Party on, Garth!" Even if we don't win we are having a good time!