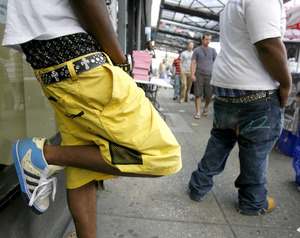 For this weeks Tuesday word game we head to the world of clothing fashion. Well sort of anyway. It seems that the Florida State legislature has an issue with droopy pants. According
to this article
the State Senate wants to suspend students for wearing "droopy britches." Since they are sticking their noses into the world of fashion (as if falling down pants is the biggest problem facing the State of Florida) I figured they might also go further.... For today's word game please fill in the blank in the following news article with another fashion trend the Florida legislature should seek to ban. The best answer of course wins a Peach!
TALLAHASSEE, Florida (Reuters) - The Florida Senate wants public school students to pull up their pants. Lawmakers passed a bill Thursday that could mean suspensions for students with droopy britches.
Florida could join several southern U.S. towns and cities that have passed "saggy pants" laws aimed at outlawing what some teenagers consider a fashion statement -- wearing pants half way down their buttocks, exposing flesh or underwear.
In another move aimed at controlling the way it's citizen's dress the state Senate has also decided to ban _____________________.
-Doc